News and Events
---

News

---
Field trip to Weihenstephan, 2 July 2019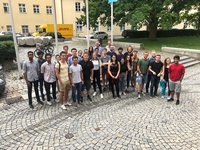 Field trip to the Bavarian State Brewery Weihenstephan, a brewery established in 1040 by the Benedictine monks, and the oldest still existing brewery in the world.
We had a guided tour through the brewery and were introduced to all data storage and technical communications taking place.
---

German Data Science Days

The German Data Science Days (GDSD) were held for the second time at Ludwig-Maximilians-Universität (LMU) Munich on 19 and 20 February 2019. The GDSD bring together data scientists from industry, business, and academia and offer a forum of exchange for professionals and users. In eight sessions, the participants presented new developments in different fields and shared their knowledge and experience with an audience of approximately 350 people.
The German Data Science Days are organized by the elite master program Data Science at LMU Munich in cooperation with the German Association of Actuaries (DAV), the newly founded German Data Science Society (GDS e.V.), and Munich Datageeks.
Some of the presentations can be downloaded here.
---

MünchenerUni Magazin on Artificial Intelligence and Data Science
The current issue of the MünchenerUni Magazin looks at the different aspects of Artificial Intelligence at LMU Munich. It also presents the elite master program Data Science and the recently initiated cooperation with Tel Aviv University.
---

Upcoming Events

---